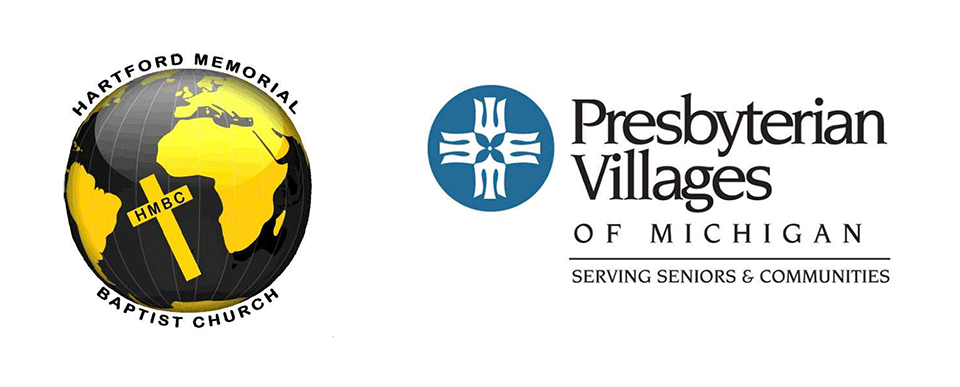 Memorial Baptist Church (HMBC) and Presbyterian Villages of Michigan (PVM) today celebrated the grand opening of Hartford Village in Detroit.
HMBC and PVM collaborated in building Hartford Village to provide safe, secure and unique living options for city seniors and fill an unmet need for market rate and affordable senior living in the city.
U.S. Housing and Urban Development Department Secretary and Detroit native Dr. Ben Carson, Detroit Mayor Mike Duggan and Detroit City Council President Pro-Tem George Cushingberry, Jr., joined officials from Hartford Memorial and PVM in an official ribbon cutting of the $17 million project.
HMBC Pastor Dr. Charles Adams, Hartford Village Chair Ron Goldsberry and PVM CEO Roger Myers welcomed more than 150 guests and dignitaries to the dedication event, property tours and a reception. A rousing blessing by Rev. Christian Adams and opening comments by Hartford Village resident Brenda Clavon started the festivities.
"Detroit didn't have an upscale housing community for senior citizens who want to live in the city and are not low income," said Rev. Dr. Charles G. Adams. "Hartford Church has filled the void with the first senior living gated community in Detroit."
"Today is very special for PVM and HMBC, the residents we serve and this city," said Myers. "Hartford Village offers a beautiful place to live, to connect with friends and family, and to enjoy the great city of Detroit with its new vibrancy. Hartford Village is on the cutting edge of a major trend toward senior urban living, and PVM is extremely proud to partner with our friends at HMBC, and others that have helped finance and propel this uniquely Detroit project to fruition."
Hartford Village is PVM's ninth senior housing development located within the city of Detroit.
"The Hartford Village project is another example of how we are building a city where there is room for everyone," said Detroit Mayor Mike Duggan. "People of all income levels, ages and backgrounds should be able to afford to live in any neighborhood they want. This great partnership is making that a reality for more of our senior citizens who will be able to live in this beautiful new community."
Michigan Governor Rick Snyder, whose 2014 special message on aging highlighted the need to preserve senior independence and choice, said the addition of Hartford Village to Detroit's housing market is a good sign that the city's redevelopment now is benefitting residents of all ages.
"Michigan – and particularly Detroit – are the nation's biggest comeback story," Snyder said. "Presbyterian Villages and Hartford Memorial are helping lead that comeback by investing in quality, senior living that showcases Detroit as a place where we live well and age well."
Leaders noted that the Hartford Village investment is anticipated to spark additional investment and growth in the surrounding neighborhoods. Hartford Village residents will make significant contributions to the local economy. Wayne County was an early supporter of Hartford Village. County Executive Evans said the investment is projected to trigger nearly $16.5 million in additional new investment in the city.
Kresge Foundation's Detroit Program Co-Managing Director Wendy Lewis Jackson pointed out that Hartford Village aligns with many of the program's objectives in addition to retaining residents and allowing them to "age in place" in city neighborhoods. The Kresge Foundation is a major contributor to the project.
"Our top priority is to support Detroit residents in reinvigorating city neighborhoods," says Jackson. "Hartford Village will further catalyze economic and social development in Northwest Detroit, including work to revitalize the nearby Live6 area and the McNichols Corridor. The village is strategically located within a mile of community anchors such as the Northwest Activities Center, Marygrove College and Sinai Grace Hospital. Partnerships with those institutions can build a culture that breaks down the isolation of generations one from another."
Construction of the market rate development, located at Meyers near McNichols in northwest Detroit, began in August 2015 and Hartford Village welcomed its first residents last November. Hartford Village offers a mix of 39 independent cottages and 46 apartments with 24-hour security, support services including transportation, and nearby cultural amenities, churches, shopping, healthcare, education and more. Residents must be 62 or better.
Homes are maintenance-free and furnished with kitchen appliances, air conditioning, washers and dryers. Barrier-free options are available. And, the community offers activities and enrichment programs for mind, body and spirit.
Hartford Village's affiliation with PVM enables residents access to PVM's network of continuum of care communities throughout the region that offer a full spectrum of care option ranging from assisted living to specialized memory support, rehabilitation and skilled nursing. PVM's partnership with Henry Ford Health System to offer the PACE Southeast Michigan program allows residents to access adult daycare programs and health and wellness services.
Hartford Village funders and project partners include: AGM Financial Services, Inc.; City of Detroit; Community Foundation of Southeast Michigan; Damone Construction; Fifth Third Bank; Giffels Webster; GHMA; The Kresge Foundation; Progressive AE; U.S. Department of Housing and Urban Development, Detroit Field Office; Wayne County; and Wells Fargo.
The philanthropic community has recognized the impact Hartford Village will have on the community. In addition to Fifth Third Bank, Talmer Bank, Comerica Bank, Flagstar Bank, The Kresge Foundation and the Community Foundation for Southeast Michigan all have contributed to making the project a reality. Wells Fargo played a significant role in coordinating the financial partners. Wayne County and the City of Detroit also provided support, which made Hartford Village possible.
"As a long-time supporter of the Northwest Activities Center, Fifth Third Bank is proud to also support nearby neighbor, Hartford Village," said David Girodat, President of Fifth Third Bank (Eastern Michigan). "We applaud Hartford Village for continuing the renaissance of this neighborhood. As the first senior living community to be built in Detroit in more than five decades, this project demonstrates that investing in our communities creates opportunity. This gift is part of Fifth Third's five-year, $30 billion commitment to strengthen the communities in which we live and work."
By 2030 nearly one in four Michigan residents will be age 60 and older. The fastest growing segment of Michigan's population is age 85 and older.
Today's announcement comes as HMBC this year celebrates its 100th anniversary in Detroit, while PVM marks its 72nd anniversary. Together, HMBC and PVM share a 172-year legacy of service to Michigan and its people.
---
The Kresge Foundation: http://kresge.org/news/new-complex-helps-keep-seniors-detroit
Channel 7 WXYZ: http://www.wxyz.com/news/new-senior-living-facility-in-detroit-draws-national-praise
Detroit Free Press: http://on.freep.com/2m74cBY
Fox 2 News: http://www.fox2detroit.com/news/local-news/242248394-story?utm_source=dlvr.it&utm_medium=twitter