Since 1945, Presbyterian Villages of Michigan has been Michigan's premier senior living provider. As a nonprofit, faith-based organization, we're committed to serving senior citizens of all faiths, walks of life, and financial means – that's why we've diversified and expanded our senior living and care offerings as needs have grown. Today, our 34 senior living communities span hundreds of miles – from the beautiful shores of Harbor Springs to Detroit's elegant skyline – and fulfill the full spectrum of residential options and health care services for Michigan seniors and their families.
Our dedication to our mission is evidenced by the more than 5,000 seniors served by one of our 34 villages or essential home and community based services. PVM residents enjoy maintenance-free living in our villages where they have the freedom to pursue whatever brings them joy – from hobbies like gardening and crafts to fun movie nights. What's more, all PVM residents have priority access to our full range of residential housing options and health care services should their care requirements change at any time.
PVM is also committed to providing seniors the opportunity to lead active, engaged lives, and we offer a range of services and amenities that embrace holistic wellness. Residents enjoy exercise and wellness programs, fitness centers, libraries, computer areas, game rooms, and chapels at many of our villages. This variety of activities and resources allow our residents to make the most of their lifestyle at any Presbyterian Village of Michigan.
With over seven decades serving Michigan's seniors, Presbyterian Villages of Michigan has enjoyed a rich history and we're ready for a bright future. Whether it's independent living, assisted living, skilled nursing care, respite care, or home and community based services, Presbyterian Villages of Michigan offers the living choices that make seniors' lives rich and fulfilling.
We invite you to embrace all of the possibilities that PVM has to offer. We're sure you'll find a community that's right for you or your loved one.
What I Do Matters: Service Excellence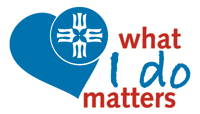 Presbyterian Villages of Michigan (PVM) is committed to providing excellent services to the elders we serve, their families and to each other. The vision of Service Excellence includes four core values: Respect, Relationships, Listening, and Accountability. These values serve as a standard against which every action and thought can be measured. The Service Excellence Standards show our commitment to make PVM a great place to live and work.