Embracing new possibilities includes potential risk; it also includes rewards – creating innovations, solving problems, bringing talent and enthusiasm to each situation, leading by example, inspiring the next generation, and helping others.
Presbyterian Villages of Michigan is proud of its accomplishments as a leader in senior housing, programs and services. We're especially proud when our efforts are recognized and members of our team receive honors for their work. We encourage participation in the community and organizations and activities related to our greater mission of service to seniors.
2013 – Best In Business Award – WJR and Huntington Bank
2016 – Crain's Best Managed Nonprofit
2017 – Detroit News & Priority Health Holiday Cheer Awardee
2018 – Mather Lifeways Institute Promising Practices Recognition
2019 – Mather Lifeways Institute Promising Practices Award
Crain's Detroit Business Selected Presbyterian Villages of Michigan as the Best-Managed Nonprofit in 2016.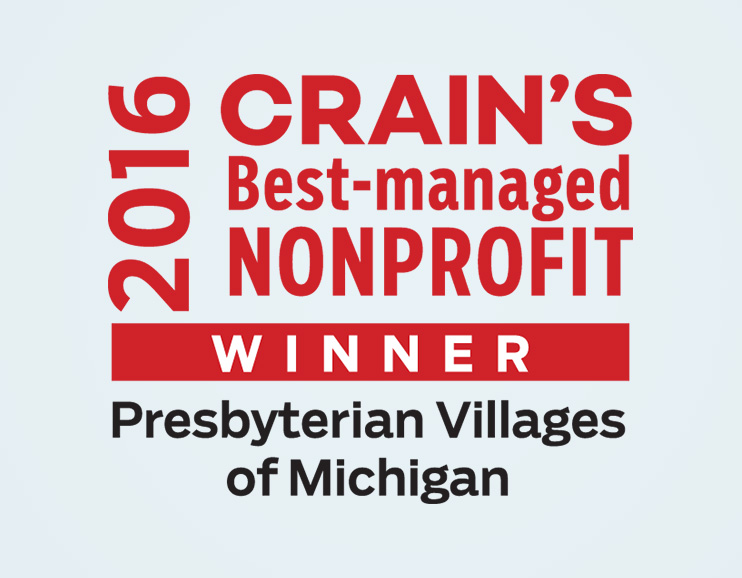 PVM received the honor "for tackling the complexity of meshing an affordable senior community with increased access to health care and related services for seniors in the surrounding neighborhood and collaborating at high levels to do it..." The Edward N. and Della L. Thome Rivertown Neighborhood, near Detroit's east riverfront, was the driving force behind this award due to innovation and challenges which were met along the way by PVM and its partners.
Chelsea-based Brio Living Services has collaborated as co-general partner of the community and managing partner of the assisted living at The Thome Rivertown Neighborhood. Henry Ford Health is a partner in PACE Southeast Michigan, the Program of All-Inclusive Care for the Elderly, which has a location on the campus. PACE is a nationally-recognized way of delivering services which allows seniors to remain as independent as possible while accessing quality health care. PACE Southeast Michigan is the largest program of its kind in Michigan.
Over the past eight years, the first two phases of the campus became a $46 million project demanding over 20 different sources of funding to meet capital costs. And more is on the way with the opening of two Harry and Jeanette Weinberg Green Houses®. The Thome Rivertown Neighborhood shows promise as a national model, an anchor of economic development in Detroit and a way of life deserving of the seniors who reside and are engaged in the neighborhood.