This month we have a special guest columnist, Hope Wheeler. Hope recently graduated from Oakland University and is interning with PVM this summer.
Think back to the last time you were in a grocery store. Did you see any food labels with the word "organic" on them? When it comes to food, the word organic refers to the way in which food is produced. Organic foods are produced without using man-made pesticides, man-made fertilizers, human waste, radiation, genetic modification, antibiotics or hormones. Unfortunately, foods that aren't produced organically may contain some of these potentially harmful substances.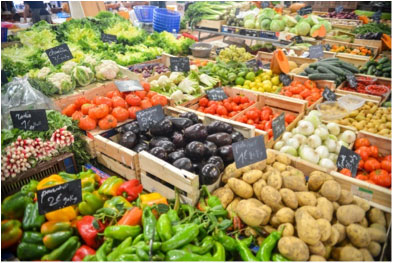 Though buying organic foods can be pricey, from a health standpoint limiting your exposure to harmful substances is generally a good idea. Because certain types of produce contain little to no pesticide residue without being produced organically, you can limit your pesticide exposure and save money by purchasing conventionally grown versions of these foods. Each year the Environmental Working Group, a non-profit, non-partisan organization dedicated to empowering people to live healthier lives in a healthier environment publishes two lists: the "Dirty Dozen" and the "Clean Fifteen" to help consumers decide which produce to buy organic and which to not. For more information, visit https://www.ewg.org/foodnews.
Whether you buy organic produce or not, to get the most "bang for your buck" shop at farmers markets, buy fruits and vegetables that are in season, and freeze any extra produce you may have. Also, remember to wash, trim, and peel your produce to reduce your pesticide exposure and to increase the health benefits, eat a wide variety. The more colors on your plate the better!
When it comes to our bodies, we invest a lot of time and money taking care of the outside (clothes, hair, shoes, makeup, etc.), shouldn't we do the same for the inside? To learn more about organic foods and their potential impact on your health, visit https://www.mayoclinic.org/healthy-lifestyle/nutrition-and-healthy-eating/in-depth/organic-food/art-20043880.