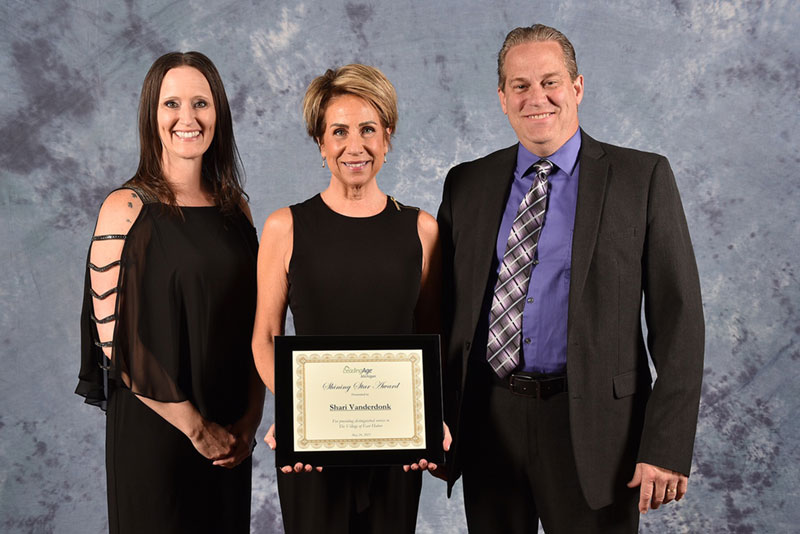 LeadingAge Michigan was pleased to honor Shari Vanderdonck from The Village of East Harbor with the Shining Star Award at the 2022 Member Awards Gala on Tuesday, May 24.
The gala took place at the Lansing Event Center in Lansing, Michigan. Each award winner was nominated by peers and selected by an esteemed group of committee members from many nominations across the state. Two hundred people gathered to celebrate the elite group of 27 award winners and recognize their collective achievements.
The Shining Star Award recognizes a gifted aging services professional who, while working for the nominating organization, has consistently demonstrated dedication, commitment, and enthusiasm in his/her profession, and has made a significant impact upon the lives of older adults.
With a background both in respiratory therapy and nursing, Shari Vanderdonck has a level of knowledge and experience paired with an amazing ability to teach, mentor, and lead that has inspired staff at the Village of East Harbor. Through the pandemic, she has been dedicated to ensuring the health and wellness of the residents as well as keeping family members well informed. Shari will seize any and all opportunities to create memorable occasions and moments of joy for residents. She has never shied away from a challenge and is willing to take on extra work to help provide exceptional service and foster quality of life. Her many attributes have made her the brightest of 'shining stars'.
LeadingAge Michigan extends a heartfelt congratulations to Shari Vanderdonck from The Village of East Harbor for her continued excellence and mission-based care, as well as the quality work to better the lives of seniors in the state of Michigan! Review the 2022 Member Awards Gala Program or visit LeadingAge Michigan on YouTube to learn more about the 2022 Member Awards Gala and other award honorees.