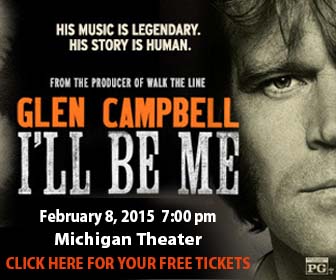 In an effort to promote awareness about Alzheimer's disease, Presbyterian Villages of Michigan has joined with Evangelical Homes of Michigan, Glacier Hills Senior Living, and United Methodist Retirement Communities to host a Washtenaw county premiere showing of the film "Glen Campbell ... I'll Be Me" at 7 p.m. Sunday, February 8, 2015, at the Michigan Theatre, 603 E Liberty St, Ann Arbor, MI 48104. The premier showing is FREE and open to the public.
In 2011, music legend Glen Campbell set out on what he expected to be a five-week tour across America—it instead lasted for 151 sold-out shows across America over a year and a half. What made this tour extraordinary was that Campbell had recently been diagnosed with Alzheimer's disease. He was told to hang up his guitar and prepare for the inevitable. Instead, the singer and his wife went public with his diagnosis and set out on a "Goodbye Tour." "I'll Be Me" documents the journey as he and his family navigates the unpredictable nature of Campbell's progressing disease.
According to the National Alzheimer's Association, an estimated 5.2 million Americans have Alzheimer's disease. Closer to home, it is estimated that 5,008 people in Washtenaw County have been diagnosed with the disease. Most alarming, statistics reveal that for individuals over the age of 65, one out of nine individuals will be diagnosed with Alzheimer's disease across the country. Legend Glen Campbell was 75 years old when he was diagnosed. Daily we are touched by someone who is caring for someone with Alzheimer's disease. As not-for-profit organizations we are committed to raising awareness about the disease. The public is invited to join us.
The film, which recently received an Oscar nomination for Best Original Song, has garnered rave reviews with every showing. Tickets to the event are available online and must be reserved in advance via Eventbrite:
Illbemescreening.eventbrite.com
.