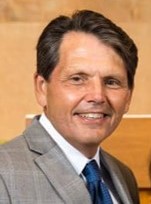 James R. Colson of Grosse Pointe was recently elected to the Presbyterian Villages of Michigan Board of Directors. Mr. Colson holds an MBA degree in Marketing from Wayne State University and a BA degree in Business Economics from Adrian College. He utilized his educational background as an executive with Hewlett-Packard for many years.
The Grosse Pointe community has benefitted from his leadership and service, including Grosse Pointe North High School and Grosse Pointe Woods Presbyterian Church. Last December, the Family Center of Grosse Pointe & Harper Woods was the beneficiary of his expertise by creating a recorded workshop and personal coaching to help individuals find a new job during challenging times.
"Mr. Colson's considerable expertise in marketing, business, technology and strategic thinking will assist with the growth and positioning of PVM well into the future." stated Roshunda Price, PVM Board Chair.