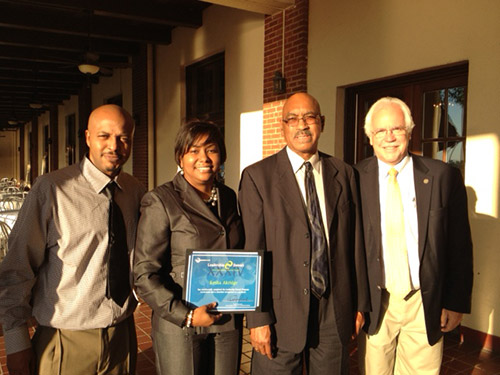 (Left to right: Leonard Akridge, husband; Kesha Akridge; Henry Cabbil, father; and Roger Myers, President and CEO)

DETROIT, June 18, 2013 – Kesha Akridge of Presbyterian Villages of Michigan graduated from the Detroit Regional Chamber's Leadership Detroit program, a 10-month transformational leadership program designed to challenge emerging and existing community leaders from Southeast Michigan to bring about positive change.

"I acquired a wealth of knowledge to develop my leadership skills in my professional journey. And I had the opportunity to meet some amazing people and develop great relationships," Akridge said.

As part of Leadership Detroit's Class XXXIV, Akridge joined 67 executives from across the region, representing a cross-section of the community, including business, organized labor, government, education, media, civic groups, health services and community organizations.

"We are thrilled to work with another great class of dynamic individuals who are committed to building a better tomorrow for the Detroit region," said Dan Piepszowski, senior director of community leadership development at the Chamber. "As the region and state continue to bounce back economically, it's heartening to see the enthusiasm among key emerging leaders across this diverse set of organizations. The Chamber is proud to help connect and build partnerships that will be important to tackling key issues facing the region."

The commencement ceremony took place at the Detroit Yacht Club and featured remarks from Leadership Detroit Class XXV graduate Deidre Bounds, chief operating officer, Ignite Social Media, who provided perspective and shared ideas on the importance of leveraging leadership skills when navigating change. The complete Leadership Detroit Class XXXIV roster is available at detroitchamber.com/ld.

About Leadership Detroit
Leadership Detroit is a community leadership program for executives in Southeast Michigan led by the Detroit Regional Chamber with over 1,800 alumni. Launched in 1979, the program aims to create awareness of key issues that affect the Detroit region and to challenge emerging and existing community leaders to bring about positive change in the community through informed leadership. For more information, please visit detroitchamber.com/ld.