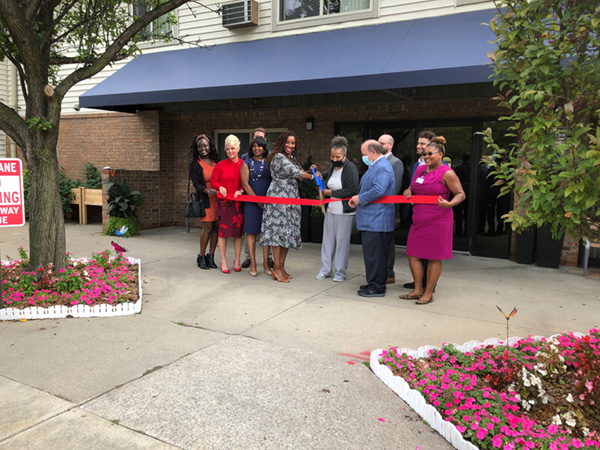 Develop Detroit, Presbyterian Villages of Michigan (PVM) and Mayor Mike Duggan celebrated today the completion of a $9 million renovation of The Village of University Meadows, a senior community providing homes to 53 low-income seniors in Detroit's Woodbridge neighborhood.
The makeover preserves rent- and income-restricted apartments that had been at risk of conversion to market rate, with Woodbridge being one of Detroit's most popular neighborhoods to call home. The seniors calling University Meadows home will be able to stay in their homes without fear of displacement while future residents will be assured of affordability well into the future.
"We have made a commitment as a city that as our neighborhoods come back, Detroiters of all income levels will have the opportunity to live affordably in any neighborhood they choose," Mayor Duggan said. "Presbyterian Villages of Michigan and Develop Detroit have been tremendous partners in our efforts to build and preserve thousands of units of affordable housing in our city. Thanks to them, the senior residents of University Meadows have the security of knowing they can remain in their home at a price they can continue to afford."
"This project demonstrates our commitment to preserving housing for seniors in Detroit," said PVM President and CEO Roger Myers. "PVM is honored to be partnering with Develop Detroit in completing this comprehensive renovation and upgrade of University Meadows. We appreciate being part of the City's important commitment to preserve and expand the availability of affordable senior housing."
The units will be offered at deeply affordable rates of 40 percent to 60 percent area median income (AMI). Eighteen of the apartments are being offered at 50 percent AMI, meaning those seniors will pay no more than $750 a month for a one-bedroom. The remaining 35 units will be offered at 60 percent AMI, or $900 a month.
A full upgrade of the existing 53 units and all major building systems was completed, along with enhanced services and amenities to create a more functional living environment and support for residents to achieve and maintain a higher quality of living. Unit amenities include new ceiling fans, dishwashers, refrigerators, garbage disposals, microwaves, mini-blinds, wall air-conditioning and self-cleaning ovens. Common area amenities include controlled entry with intercom, security lighting, elevator, laundry room, community room, exercise room, clubhouse, business center, picnic area, maintenance service coordinator, and on-site management.
A grant from the Erb Family Foundation has provided for the implementation of a green development platform, which includes green stormwater infrastructure planning and improvements, energy- and water-efficient appliances, edible landscapes, green operations and additional programming.
In addition to support from Develop Detroit and PVM, University Meadows received a $1.9 million award in HOME funding from the U.S. Department of Housing & Urban Development (HUD) through the Michigan State Housing Development Authority (MSHDA) and Detroit Housing & Revitalization Department (HRD). It also received a $750,000 grant from the Harry and Jeanette Weinberg Foundation, and LISC Detroit provided a pre-development loan, and U.S. Bank contributed an equity investment to support the project.
"Develop Detroit is pleased to have worked with our thoughtful and dedicated partners to complete this important renovation project—one that ensures our Woodbridge seniors will enjoy quality, truly affordable homes well into the future," said Sonya Mays, president and CEO of Develop Detroit.
University Meadows also received 44 project-based vouchers from the Detroit Housing Commission (DHC), which will help seniors afford their rent and continue to call the development home.
"A Detroiter's inability to pay high, market-rate rents does not mean they do not deserve to live in a quality home," said Sandra Henriquez, CEO of the DHC. "That's why the Detroit Housing Commission is proud to partner with Develop Detroit and Presbyterian Villages of Michigan to provide project-based vouchers that will enable 44 very-low and extremely low-income seniors to live comfortably at University Meadows."
For more information about PVM and The Village of University Meadows, go to www.pvm.org.