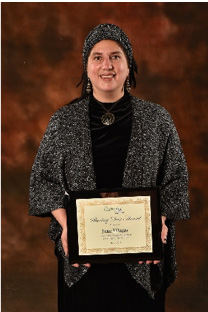 LeadingAge Michigan was pleased to honor Josie Villegas from The Village of East Harbor with the Shining Star Award at the 2019 Annual Awards Gala on Tuesday, May 21.
The gala took place in the Arcadia Ballroom at the Radisson Plaza Hotel in Kalamazoo. Each award winner was nominated by their peers and selected by an esteemed group of committee members among many nominations across the state. Over 300 people gathered to celebrate the elite group of 27 award winners and recognize their collective achievements.
The Shining Star Award recognizes a gifted aging services professional who has consistently demonstrated dedication, commitment and enthusiasm in his or her profession, and has made a significant impact upon the lives of older adults. Additionally, they have demonstrated excellence in management of personnel, systems or customer service.
Josie is the Primary Discharge Planner in the Health Care Center at The Village of East Harbor. She works incredibly long hours to make sure every detail of each discharge is covered. She is a true advocate for the patients vest interest, a dedicated social worker and discharge planner, and shining star.
LeadingAge Michigan extends heartfelt congratulations to Josie Villegas and The Village of East Harbor for their continued excellence and mission-based care, as well as the quality work to better the lives of seniors in the state of Michigan! To learn more about the 2019 Awards Gala and other award honorees, visit the 2019 Awards Gala Program or view the awards video
(Josie's video: https://youtu.be/Zxi5QRd-ArY)