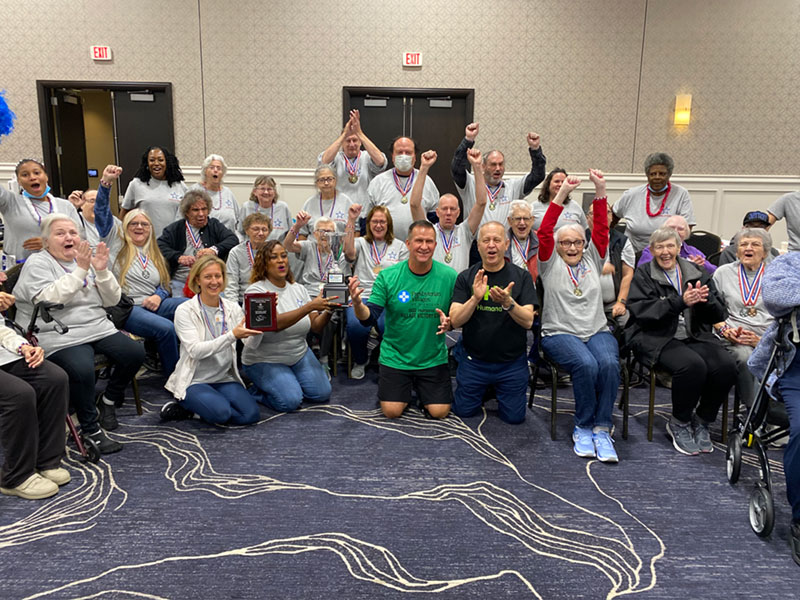 The 17th Annual Humana/PVM Village Victory Cup returned LIVE AND IN-PERSON in 2022 on October 7, with a virtual Village Victory Cup option that was available through October 28, 2022.
17 Villages participated full force in a lively competition featuring brain smart activities, walking events, basketball, and the ever-popular, balloon volleyball. The competition was fierce with The Village of Westland capturing the Live Village Victory Cup and Hartford Village taking the Live Spirit Award.
This event showcased the vibrancy of seniors with participants' ages ranging from 50 years old to 101. Not only are the VVC games engaging, but they are also designed and scored so that every resident, regardless of their ability, can contribute points to their team. This model of wellness benefits the community by promoting healthy habits among vulnerable seniors to enhance their quality of life.
Each year, residents complete a survey on the VVC to measure their thoughts and attitudes toward the VVC games and the yearlong practice. Since 2019, when residents were last surveyed, they have reported the following:
More physically active:
More socially active:
More mentally active:
Seniors who practiced for the events:
Increase of 4.04%
Increase of 1.52%
Increase of 1.27%
Increase of 3.08%
The Village Victory Cup uses "stealth wellness" to encourage seniors of all ability levels to participate in a healthy lifestyle through fun and interactive games residents play year-round. This year-round practice encourages a positive lifestyle change and promotes physical activity and social interaction. Residents feel passionate about practicing and are motivated to work harder, bettering their scores for the whole team.
Many thanks to our presenting sponsor, Humana, for their continued support! This year, Humana associates also volunteered at the event.
"As a leading health and well-being company, Humana is honored to sponsor this event," said Joe Braun, Humana MarketPOINT director for Michigan. "Humana's mission is to help people achieve lifelong well-being, and we encourage seniors to pursue an active lifestyle and help them achieve their best health."
Special thank you to our volunteers from Flex Tech Schools, Wayne State University, The University of Michigan Flint, and Versalev Systems Engineering. The Village Victory Cup would not be possible without the unwavering support of our sponsors and volunteers. Thank you for your continued dedication to wellness and older adults!
For more information and to get inspired for aging well, please visit villagevictorycup.org or www.pvm.org