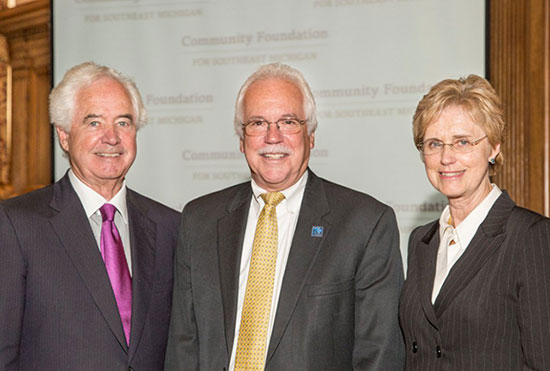 The Community Foundation for Southeast Michigan announced that Roger L. Myers, president and CEO of Presbyterian Villages of Michigan (PVM), was selected as the recipient of the 2015 Mariam C. Noland Award for Nonprofit Leadership. The award was presented at the Community Foundation's annual meeting today.
Named after the Community Foundation's first and current president, this annual award recognizes a nonprofit president or CEO in southeast Michigan whose service exemplifies the importance of nonprofit leadership, not only to his or her organization, but also to the wider nonprofit community. The award recipient receives a grant of $10,000 from the Community Foundation, with the preference that it be used for executive leadership development opportunities.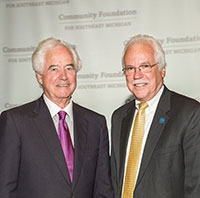 Since 1992, Myers has served as the president and CEO of PVM, which provides high-quality residential accommodations, services, programs and care to more than 4,300 seniors of all faiths and financial means. During his tenure, the organization has grown from five locations to 25, including seven within the city limits of Detroit. Myers is a leader in advancing housing options that promote dignity and choice. He has championed public, private and philanthropic partnerships throughout the region that created economically viable new options in senior living and care. He has also worked to prevent the displacement of seniors in the wake of new development in Detroit.
"The mission of the Community Foundation is to enhance the quality of life for people in southeast Michigan. Roger Myers exemplifies this principle through his many years of work on behalf of our region's older residents," said James B. Nicholson, chair of the board of trustees of the Community Foundation.
Known as an innovator and collaborator, Myers has dedicated his career to ensuring that each of PVM's villages makes a positive impact on its community. The organization's newest Detroit residence, the Thome Rivertown Neighborhood, has been recognized as a national model of collaboration among PVM, United Methodist Retirement Communities, the Henry Ford Health System and PACE for Southeast Michigan. It will ultimately serve over 700 low income seniors (as well as other community residents) and create more than 500 jobs and make a ten-year contribution to the regional economy of over $350 million.
Currently, PVM is collaborating with Hartford Memorial Baptist Church to bring high-quality senior housing to Detroit's northwest side. Both this project and Thome Rivertown received funding from the Community Foundation.
Myers' community service also includes work with LeadingAge, The Senior Alliance, Crime Stoppers of Michigan, Wayne State University Institute of Gerontology Board of Visitors, Alma College, Detroit Wayne County Health Authority, Greater Detroit Area Health Council, Aging Services Consortium of Detroit, PACE of Southeast Michigan, Presbyterian Association of Homes and Services to the Aging and the Board of Pensions of the Presbyterian Church USA.