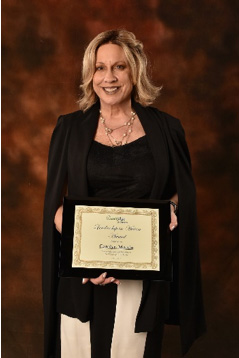 LeadingAge Michigan was pleased to honor Carolyn Martin from The Village of East Harbor with the Leadership in Action Award at the 2019 Annual Awards Gala on Tuesday, May 21.
The gala took place in the Arcadia Ballroom at the Radisson Plaza Hotel in Kalamazoo. Each award winner was nominated by their peers and selected by an esteemed group of committee members among many nominations across the state. Over 300 people gathered to celebrate the elite group of 27 award winners and recognize their collective achievements.
The Leadership in Action Award recognizes an individual whose actions and leadership have greatly enhanced the work environment in their organizations as well as the quality of life for the residents and clients they serve. The award recipient consistently provides strong leadership to the staff and community.
Carolyn Martin has worked at the Village for over 14 years. She has worked her way up from Sales Manager to Administrator with hard work, dedication and education; she leads by example with a caring heart, a fun spirit, and professional focus. She encourages self-improvement, community, and fosters good team relationships and has led her staff to a work culture change for the better. Her talents and abilities are only out shinned by her compassion for resident care, making her community a great place to work and live.
LeadingAge Michigan extends a heartfelt congratulations to Carolyn Martin and The Village of East Harbor for their continued excellence and mission-based care, as well as the quality work to better the lives of seniors in the state of Michigan! To learn more about the 2019 Awards Gala and other award honorees, visit the 2019 Awards Gala Program or view the awards video
Carolyn Martin's video