Contact:
Scott M. Bondy, RN BSN
Executive Director
Operations and Business Development
CareSync Solutions
(248) 773-4550
Karen Twinem
VP of Communications & Public Relations
National Church Residences
(614) 273-3514
Patricia Butler
Vice President of Strategic Partnerships
Advantage Living Centers
(248) 914-8701
Lynn Alexander
Vice President of Public Affairs
Presbyterian Villages of Michigan
(248) 281-2029
FOR IMMEDIATE RELEASE - May 2nd, 2016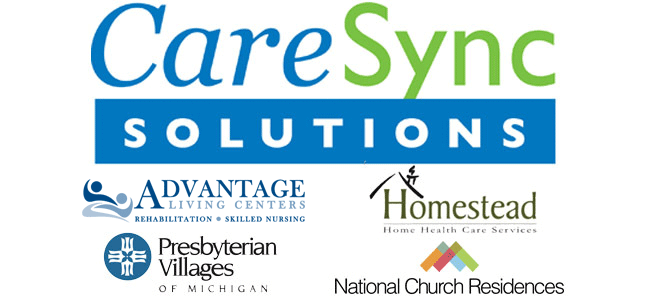 Detroit, MI - CareSync Solutions announces that Advantage Living Centers (Southfield, MI) and National Church Residences (Columbus, OH) have become Members of the LLC effective May 2, 2016, joining Homestead Home Health Care (Northville, MI) and Presbyterian Villages of Michigan (Southfield, MI) in expanding a comprehensive array of home and community based programs, services and care options in Michigan. CareSync Solutions was established in April 2015 to provide an increased continuum of integrated and coordinated solutions for seniors and others.
The addition of Advantage Living Centers and National Church Residences strengthens the capacity and broadens the reach of CareSync Solutions.  The two organizations are very complimentary to Homestead Home Health Care and Presbyterian Villages of Michigan. Through their collaboration in CareSync Solutions, the four organizations have come together to develop an innovative network that is highly responsive to the continuing changes in health care delivery, payment arrangements and consumer preferences.
Programs, services and care options provided through CareSyncSolutions are expected to include
Private duty home health and personal care services;
Mobile medical service;
Coordination of ancillary services, including skilled care, end of life care, physician services, pharmacy services and care transition programs;
Meal preparation and nutritional/dietary monitoring;
Transportation;
Concierge services, including: personal shopping and errands, housekeeping, laundry and chore services;
Relocation services and support;
Wellness and other enrichment/engagement programs; and
Telehealth and other home based technologies.
Additional areas are likely to be pursued in the future based upon identified market demand.
"We are excited about this collaboration as it enables us to provide a continuum of care that will provide clients with quality choices for post acute services utilizing a coordinated care management model" stated Kelsey Hastings, CEO of Advantage Living Centers.
"National Church Residences is pleased to be part of this coordinated system of care and services. We are excited to have the opportunity to further impact the lives of seniors in Michigan." said Jacci Nickell, Senior Vice President/Chief Operating Officer for Senior Living, Care and Services at National Church Residences.
Carl Simcox, CEO of Homestead commented "We are pleased to add two well respected and innovative partners to CareSync Solutions. Offering a comprehensive array of community based services provides more creative options for the people we serve."
"PVM is delighted with this strategic expansion of CareSync Solutions and looks forward to the future growth that will result." said PVM President and CEO, Roger Myers.
###
National Church Residences is committed to excellence that transforms the lives of the people it serves. The not-for-profit organization is an innovative leader in integrating housing, health care and supportive services, serving seniors of all income levels and families. With 340 communities in 28 states and Puerto Rico, National Church Residences is the nation's largest not-for-profit provider of affordable senior housing. It also operates full-service retirement communities in Ohio and Florida, as well as supportive housing for the formerly homeless and disabled in Ohio and Georgia. The National Church Residences model of person-centered care includes adult day health, assisted living, senior housing, skilled nursing homes, rehabilitation center, outpatient therapy, home health care and hospice. For more information, visit www.nationalchurchresidences.org.
Advantage Living Centers is a premier Michigan-based company that owns and operates 10 post-acute assisted living, rehabilitation and skilled nursing centers in Michigan: Advantage Living Center - Harper Woods, Roseville, Northwest (Detroit), Redford, Redford Village, Southgate, Wayne, Battle Creek Manor, Samaritan Manor, and Harrington Inn (Port Huron). Their mission is to provide premium, individualized and highly skilled post-acute and rehabilitative care in a compassionate, professional environment. Advantage's passion is to combine innovative ideas with medical care, technology, and state-of-the-art programs to create a safe place of healing and inspiration for those who need rehabilitation and support. Advantage is a privately held company. For more information on Advantage Living Centers, visit www.advantageliving.net
Homestead Home Health Care, Inc. (Homestead), headquartered in Northville, MI, is a for-profit organization engaged in multiple service/programs caring for seniors since 1989. Homestead and its affiliates service over 2,000 clients throughout Michigan. Homestead provides home care, facility management of independent and assisted living communities, care coordination and client advocacy. Homestead employs 1,000 individuals company wide and is committed to career advancement opportunities for all of their employees. For more information on Homestead Home Health Care visit at www.homesteadhomehealthcare.com.
Presbyterian Villages of Michigan, is an innovative Michigan non-profit organization that was founded in 1945. It currently serves over 4,500 seniors of all financial means across the state in 28 communities from the shores of Harbor Springs to the City of Detroit. PVM's mission is to serve seniors of all faiths by creating new possibilities for quality living through its villages and home and community based services. Its vision is to transform senior living and to enhance the communities it serves. For further information, go to www.pvm.org