There are times in the lives of some residents when PVM is called upon to go beyond the first mile—a second mile.

Circumstances change. Economic resources, which may have seemed adequate when a resident moved into a Village, take a turn. A poor economy, unexpected and increasing health expenses, the loss of a stream of income they relied on—each can have a devastating impact on a resident.

Through the years, PVM has provided tremendous resources and support to help those who need "second mile" resources. Generous donors, congregations and so many others have helped. Known as Benevolence, this has allowed PVM to maintain its trust commitment with residents and their families.

There are also emergency needs that, without the generousity of donors, PVM would not be able to provide. This may include a generator to help provide independent living residents electricity during power outages, assistance with services for seniors on a short-term basis or financial support to get a resident though an emergency situation.

PVM is committed to ensuring the trust of its residents and family members everyday. The 2015 Campaign will make it possible for PVM to continue and expand its commitment to those who require financial assistance in our Villages.
Goal
$1 million in immediate support
$3 million endowment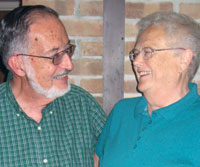 Robert & Patricia:
Robert and his wife, Patricia, moved to a PVM Village because they didn't want their children to be concerned about whether or not they would need additional care. PVM answered their question, "Who's going to care for us when we need additional care?" We will!
"We have known people for many years, various people, that have lived in PVM Villages," states Bob. "We decided this is where we want to be. We see the care that is given to those in assisted living, those that are in the nursing area, those in the memory loss unit…We think the care is tremendous. That is why we've chosen to live here."
Jefferson:

"I think PVM is definitely looking at my best interests, from just being at one of their communities and knowing their mission tells me that they are looking out for seniors, not just me, but all seniors that live in their establishments."