At PVM, we look for innovative solutions to the challenges and needs of current residents and those who will follow in the years to come. Whether it's leading edge technology, convenient transportation, Green Houses®, collaborations with other groups or village-specific solutions for residents, PVM is always pursuing ways to benefit our residents and other seniors in the community, now and in the future.

Funds from the 2015 Campaign will provide seed funding, resources and working capital, to initiate many of those solutions.
Dorothy: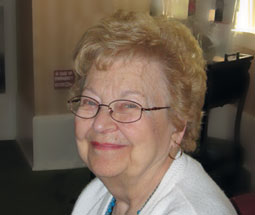 We know that safety is important and, through the use of latest technology, PVM helps residents and family members have peace of mind.
Dorothy, a PVM resident, woke up with a nose bleed. She was frightened and activated her wireless pendant and a staff member responded immediately. "…he was there in a minute. I was so pleased and thankful that the Village supplied that (pendant) for me!"
The 2015 Comprehensive Campaign will help provide important technological assistance like this to residents at each of the 26 Villages.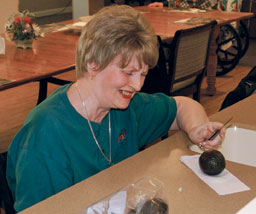 Kay:
Green Houses®, small home-like residences, are an alternative to traditional, institutional medical-model nursing homes. A great example of being a leader in the field, PVM's Village of Redford Campus is home to Michigan's first Green Houses®. Today, residents are enjoying a full, vibrant life while receiving 24-hour skilled nursing care.
Kay, a Green House® resident, experiences independence, even though 24-hour skilled nursing care is needed. "They encourage residents to be independent…I'm 20 years younger than a lot of people here and I want to stay that way. I answer the door, the phone and I have a lot of older people that I take care of. And, I thoroughly enjoy it."
Kay and her husband came to the Village when he was diagnosed with Alzheimers. Kay's husband was also a Green House® resident. They both got sick at the same time and she suddenly found herself needing care.

"I love the Green Houses® ," Kay states smiling. "And, my kids love the Green Houses®."